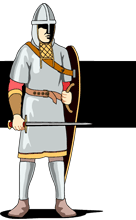 The Need
Today, our spiritual poverty stands in stark contrast to our economic wealth and our scientific and technological abundance. With out a Holy God at the helm, our moral center is gone; our kids have no idea of right and wrong.
The promise of acceptance and fulfillment through entertainment, material gain, drugs, sex, and violence in the U.S has resulted each month in approximately:
30,120 teen abortions
15,120 teens experimenting with drugs for the first time
180 teen suicides
In the 1998-99 school year 28 students and teachers were killed and 74 wounded on school campuses.