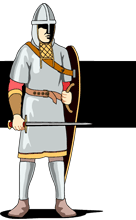 Our Name

There was a time in our country when we truly were a "Christian nation." A wall built with stones formed by the convictions of humble, God-fearing, disciplined, honest, hard-working Christians, and fired by the trials of poverty, war, and survival, protected this country from Satan's influences from without and fleshly temptations from within.

The Wall of Christian Values is Crumbling

Like Nehemiah, who got word that the walls of Jerusalem were in ruins and the enemy frequently entered that sacred city, a mom was burdened. After surveying the damage with a few confidants and after much prayer, God's people were enlisted to help in rebuilding the wall. As in Nehemiah's experience, Satan assailed with obstacles. Yet, God was faithful to raise up zealous workers to build night and day; some building with a tool in one hand (teacher, parents, and youth leaders) and a weapon in the other (Biblical prayer), while others stood in the gaps with only their weapons of God's Word and prayer. When fears and doubts came, Nehemiah's encouraged them not to be afraid but to "remember the Lord Who is great and awesome and to fight for our brothers, our sons, and our daughters.."

From the time the idea came to the day the initial 600 prayer warriors began to pray for kids was approximately 52 days. They recognized that "this work had been accomplished with the help of our God."

In studying the spiritual armor of the believer, they discovered that soldiers carried shields 4 ½ feet by 2 feet which virtually protected their entire body. When approaching the enemy shoulder to shoulder, the shields formed a protective wall against the enemy's fiery darts. They picture 4600 shields forming a wall to protect Denton's youth with their faith that our God is greater than any enemy hold on them.