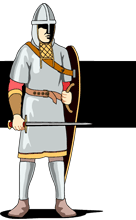 Some Kids Don't Have a Prayer
A ministry of committed prayer warriors who pray daily for individual Junior and Senior High students.
A ministry that provides individual prayer support for each prayer warrior involved.
Today is Friday the 23rd of February. The major theme for today is Friends--pray they would desire the right friends and be protected from the wrong friends and crowd. For our students we will be praying from Psalms 119:63. For our prayer partner we will be praying from Galatians 6:9.